Richard helps clients move to the next dimension. He works with clients to understand their technology and help them protect their intellectual property and maximize the monetary potential for their goods and services.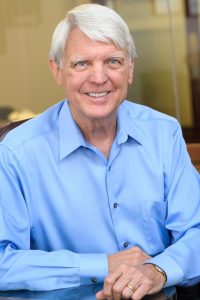 Richard spent his early career in journalism, which required him to search for the who, what, when, where and how for his writing. This reporting background serves him well with his clients because Richard has an ability to distill complex technical issues into understandable contracts, license agreements, business development agreements, and other innovative approaches to protecting their intellectual property.
His ability to simplify complex legal issues, combined with his curiosity, pushes him to explore how today's law applies to the next generation of technology. That's why he presents, writes articles, and contributes book chapters on who owns the intellectual property created solely by artificial intelligence, what legal liabilities software developers and engineers have when they create code for autonomous vehicles, and legal issues involving the Internet of Things. For clients, he not only thinks outside the box, but finds legal solutions when there is no box.
Richard serves as outside general counsel for start-ups and well-established businesses. He represents domestic and foreign companies and companies doing business in multiple countries. His clients are in areas including high technology, IoT, AI, software and app development, and online businesses.
Presentations and Publications

Mr. Balough is a frequent lecturer on Internet, cyberspace, media, and privacy law before bar associations and at universities.  His articles have appeared in law journals, national legal publications, and in the popular media.  His most recent publications and presentations include:

Who Owns the Work Product Of Artificial Intelligence Machines? by Richard C. Balough at the American Bar Association Business Law Section Spring Meeting on April 13, 2018.
Artificial Intelligence Intellectual Property Issues, a presentation by Richard C. Balough at the Building More AI Startups in Chicago meetup sponsored by the AI and Robotics Center for Humans (MARCH), on December 13, 2017.

Driverless Cars: Avoiding the Legal Potholes, a presentation by Richard C. Balough at the 2017 DRI Intellectual Property Law Seminar on May 11-12, 2017.

"Artificial Intelligence – Who Owns the Machine's IP," by Richard C. Balough  at the American Bar Association's Cyberspace Law Institute and Winter Working Meeting on January 28, 2017.
Copyright Ownership and Transfer, by Richard C. Balough, Illinois Institute of Continuing Legal Education, Intellectual Property Handbook, December, 2016.
Keeping Your Thanksgiving Recipes Out of (IP) Food Court, a presentation by Cheryl Dancey Balough and Richard C. Balough to the Chicago Bar Association's Creative Arts and Food Law Committees, November 15, 2016.
Autonomous Vehicles A Stalking Horse for Intellectual Property Rights in the Internet of Things, by Richard C. Balough, a presentation at an American Bar Association webinar on the Internet of Things: Key Legal Considerations, October 2016.
Are Your Clients Ready for the Impact of Driverless Cars?, by Richard C. Balough, Business Law Today, May 2016.
Autonomous Vehicles Offer a Ride into the Internet of Things, by Richard C. Balough, a presentation at the National Institute on the Internet of Things, Washington, D.C., March 2016.
The Cook County Record article on FAA registration of drones quoted Richard C. Balough, January 2016.
Steering around the legal potholes of autonomous vehicles, a panel discussion moderated by Richard C. Balough, American Bar Association's Business Law Section annual meeting, Chicago, September 2015
So, you want to legally fly a Drone? How to counsel a client, by Richard C. Balough, SciTech Lawyer magazine, Summer 2015.
Online Privacy & Data Security Soup to Nuts: A Primer and Update on Important Developments for the Business Lawyer, a webinar with Richard C. Balough, sponsored by the Cyberspace Law Committee of the Business Law Section of the American Bar Association, May 2015.
Under Current Law, There's No Place for Commercial Drones, by Richard C. Balough, CBA Record, April-May 2015.
Simple Steps Small Businesses Can Take to Protect Themselves from Crimes and Fraud on the Internet, a panel presentation by Richard C. Balough to the Northern Illinois Commercial Association of Realtors, March 2015.
It's on the Internet so it must be true and other technology myths, a presentation by Richard C. Balough to the Chicago Bar Association's Solo and Small Firms Committee, October 2014.
What should business lawyers tell clients who want to use drones in their business?, a panel discussion with Richard C. Balough as moderator at the American Bar Association's Business Law Section annual meeting, September 2014.
Geolocation Technologies and Privacy, by Richard C. Balough and Theodore Claypoole, presented at the American Bar Association's Cyberspace Law Institute, San Francisco, January 2014.
Privacy Implications of Smart Metering and its Use of RFID Technology  by Cheryl Dancey Balough and Richard C. Balough, "RFIDs, Near-Field Communications, and Mobile Payments:  A Guide for Lawyers," published by the American Bar Association, 2013.
Cyberterrorism on Wheels Are Today's Cars Vulnerable to Attack? by Cheryl Dancey Balough and Richard C. Balough, Business Law Today, November 2013.
Don't Let BYOD Mean Bring Your Office Disaster, by Richard C. Balough, presentation at the Southwestern Business Law Institute 2013 at the Cumberland School of Law, Samford Univeristy, sponsored by the Business Law & Corporate Counsel Section of the Alabama State Bar Association.
Copyright Ownership and Transfer, by Richard C. Balough, Illinois Institute of Continuing Legal Education, Intellectual Property Handbook, 2013.
The Day the Cars Stood Still 1951 Sci-Fi or 2013 Reality? by Richard C. Balough and Cheryl Dancey Balough, presentation to the 2013 Cyberspace Law Institute of the American Bar Association's Section of Business Law, January 2013.
Developments in the Law Concerning Geolocational Privacy, by Richard C. Balough and Theodore Claypoole, The Business Lawyer, published by the American Bar Association's Section of Business Law, November 2012.

Professional and Community Activities

Mr. Balough is co-chair of the Mobile and Connected Devices of the Cyberspace Law Committee of the American Bar Association. He is on the Advisory Board of the Center for International Media Law and Policy Studies for the Indiana University School of Journalism. He has served on the Board of Managers of the Intellectual Property Law Association of Chicago (IPLAC) and as chair of IPLAC's Internet Law Committee. He is past chair of the Computer Law Committee of the Chicago Bar Association. Mr. Balough was the local managing partner in Austin (TX) for a Washington, DC-based law firm, an assistant city attorney for the City of Austin (TX), and an assistant state's attorney in Will County, Illinois.

His civic and community activities have included the Parish Pastoral Council at Holy Name Cathedral in Chicago and service on several committees with the Chicagoland Chamber of Commerce. While in Texas, he was president of Keep Austin (TX) Beautiful, chairman of Downtown Austin Partners, and a member of various Austin Chamber of Commerce committees.

Education and Bar Admissions

Mr. Balough has masters of law degrees cum laude in intellectual property law and information technology and privacy law in addition to his JD degree. His undergraduate degree was in journalism and government from Indiana University, Bloomington, Indiana.

Mr. Balough is admitted to:

Supreme Court of Illinois

Supreme Court of Texas

Supreme Court of Florida

U.S. District Court, Northern District of Illinois (Trial Bar)

U.S. District Court, Central District of Illinois

U.S. District Court, Western District of Texas