(March 25, 2017) Fashion designers might be able to stitch together copyright protection for their clothing thanks to the Supreme Court.
In a divided decision, the Supreme Court granted copyright protection to cheerleading uniforms because the chevrons, curves, stripes, angles, diagonals, and shapes are conceptually separate from the "utilitarian function" of the uniform.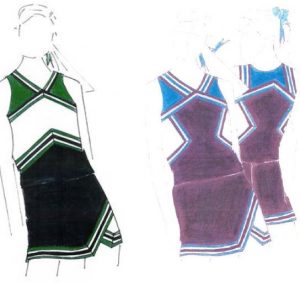 This result comes after numerous failed attempts to include copyright protection for the fashion industry under the 1976 Copyright law, as amended. In the dissent, Justice Breyer noted the decision "to grant protection to the design of a garment would grant the designer protection that Congress refused to provide. It would risk increased prices and unforeseeable disruption in the clothing industry, which in the United States alone encompasses nearly $370 billion in annual spending and 1.8 million jobs."
The case was brought by Varsity Brands, Inc. against Star Athletica, both of which design, market, and sell cheerleading uniforms. Varsity owns copyrights on several of its designs, which it alleged Star Athletica infringed. Star Athletica argued that the designs were not protectable under the Copyright Act because the designs served the useful or "utilitarian function" of identifying the garments as "cheerleading uniforms."
The majority found that the chevrons, curves, stripes, and other "surface decorations" are "eligible for copyright if, when identified and imagined apart from the useful article, it would qualify as a pictorial, graphic, or sculptural work either on its own or when fixed in some other tangible medium."
"To be clear, the only feature of the cheerleading uniform eligible for a copyright in this case is the two-dimensional work of art fixed in the tangible medium of the uniform fabric," the majority wrote. "Even if respondents ultimately succeed in establishing a valid copyright in the surface decorations at issue here, respondents have no right to prohibit any person from manufacturing a cheerleading uniform of identical shape, cut, and dimensions to the ones on which the decorations in this case appear."
Justice Breyer said there was no way to view the features except as part of the uniforms themselves. "The esthetic elements on which Varsity seeks protection exist only as part of the uniform design—there is nothing to separate out but for dress-shaped lines that replicate the cut and style of the uniforms. Hence, each design is not physically separate, nor is it conceptually separate, from the useful article it depicts, namely, a cheerleader's dress. They cannot be copyrighted."
Cheryl Dancey Balough, adjunct professor of copy right law at Chicago-Kent, notes, "For several decades, fabric designs have been eligible for copyright protection, but articles of clothing have always been considered functional. Whether the Star Athletica decision opens the door a bit wider for the fashion industry is yet to be determined."
Star Athletica, LLC v. Varsity Brands, Inc., Supreme Court No. 15-866, issued March 22, 2017.